Venerdì 19 Marzo 2010 HLS once more in Ticino
HLS preparano la stagione estiva con la loro partecipazione a Lugano Blues 2010

Friday March 19 2010: HLS once more in Ticino
HLS' warm up for the upcoming summer season @ Lugano Blues 2010 (Switzerland)

L'Arno come il Mississippi
September 23- 2009

grande successo dell'iniziativa nata questa estate sul fiume Arno a Pontedera. Dietro il nostro suggerimento l'associazione Vivere l'Arno e il Leningrad Cafè di Pisa (http://www.leningradcafe.com/) hanno portato per la prima volta la musica sul "fiume d'oro e d'argento". Oscar, Lupo e Mimmo hanno regalato 3 sere di musica e atmosfera magica


Arno river same as Mississippi?
great success for the initiative born this summer on the river Arno to Pontedera. Behind our suggestion the association "to Live the Arno" and the "Leningrad Café" of Pisa (http://www.leningradcafe.com) they have brought for the first time the music on the "river of silver and gold"


Oscar, Lupo and Mimmo have given 3 evenings of music and magic atmosphere




UN NUOVO BASSO JACOLAND PER LUPO
August 14- 2009

Lupo suona bassi elettrici Fender e per i concerti acustici usa bassi Epiphone, ma da oggi ha un nuovo basso semiacustico costruito dal maestro liutaio Fausto Fiorini della Jacoland di Castell'Arquato (Piacenza). il modello è "Heaven bass darkbrown custom Lupo".

Guarda le immagini del basso


A new Jacoland bass for Lupo
Lupo plays Fender electric basses and for the acoustic concerts it uses Epiphone basses , but starting today it has a new semiacustic bass built by the teacher liutaio Fausto Fiorini of the Jacoland of Castell'Arquato (Piacenza). the model is "Heaven bass darkbrown custom Lupo".

Bass Pictures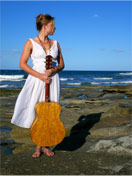 IN TOUR CON RHEANNA DOWNEY
dal 19 al 23 Giugno
Oscar Bauer e Lupo accompagneranno per un breve tour promozionale la folk-singer californiana Rheanna Downey
http://www.myspace.com/rheannadowney

June 19-23, 2009 promotional tour
Rheanna Downey + Oscar Bauer with Lupo

INTERVISTA RADIOFONICA
Mercoledì 22 aprile 2009 ore 19
HLS intervista in diretta su Radio Golfo degli Angeli (94.100 mhz) - Cagliari.
www.radiogolfodegliangeli.it


25 Gennaio 2009
In linea la nuova fotogallery con reportage dal tour siciliano e altre belle foto!!
January 2009. On line the new fotogallery with report from the tour Sicilian and other beautiful photos


9 Gennaio 2009
Pontedera (Pisa) - Editata la complilation IL SUONO ORGANIZZATO, con brani di tutti gli insegnanti della Accademia della Chitarra, Corale Valdera e altri...Oscar e Lupo presenti in ben 4 brani tra acustico ed elettrico e in uno col violinista Roberto Cecchetti e il batterista Giacomo Macelloni.

9 January 2008
Pontedera (Pisa) Edited the complilation The Organized Sound, with passages of all the teachers of the Academy of the Guitar, Choral Valdera and others...Oscar and Lupo present in well 4 passages among acoustic and electric and in one with the violinist Roberto Cecchetti and the drummer Giacomo Macelloni.

30 Agosto 2008
HLS per la prima volta a Malta insieme alla brava vocalist Jada
30 August 2008. HLS for the first time in Malta together with the good vocalist Jada.

30 Luglio 2008
Grande successo della formazione a sestetto "Hotel La Salle & The Belzebù Rhythm Trobadours" nei festival Siciliani
July 2008.
Great success of the sextet formation "Hotel You Salle & The Belzebù Rhythm Trobadours" in the Sicilian festivals. (gallery)

9 Maggio 2008
Oscar e Lupo hanno registrato due nuovi brani che per il momento faranno parte del prossimo cd-sampler delle scuole di musica di Pontedera riunite per l'occasione; May 9: 2 new songs recorded by Oscar & Lupo for the cd-sampler of the music schools of Pontedera

Oscar Bauer with Lupo in Carcere 9 e 10 giugno 2008!
l'anno scorso poco prima di suonare fummo avvertiti della cancellazione della nostra data a causa di un triste lutto verificatosi all'interno del carcere; quest'anno torniamo per due giorni a suonare per e con i detenuti del carcere Don Bosco di Pisa!; June 9 and 10 we will play with the Don Bosco County Jail' prisoners in Pisa

Presentazione nuovo cd Hotel La Salle "Wild & Alive" a Liri Blues, domenica 6 Luglio, a seguire concerto e poi Roy Young
new cd Hotel La Salle ("Wild & Alive") realize party in Liri Blues, July 6; HLS in concert + Roy Young

October 07

HLS are listening to some tapes recorded live in the last two years; friends and fans who often asks for a live-cd: stay in touch! we'll let you know a.s.a.p.

Oscar Bauer with Lupo: probably a new cd in 2008
Photo by Norbert Neugebauer

October 07
RADIO INTERVIEW

Tuesday 16th (17,30-18,25 p.m.) radio show at Nova Radio FM 101.5
listen to us in streaming http://www.novaradio.info/bhopal/page.php?pg=trasm_radici

Aprile 07
RADIO INTERVIEW

Radio interview saturday May 5th on famous Bologna's radio station www.radiocittadelcapo.it

Aprile 07

HOTEL LA SALLE + BOB BROZMAN
HLS + Bob Brozman confirmed July 29 at www.blunottiblues.it in Moncalvo-Asti


Aprile 07
HOTEL LA SALLE RESIDENT AT XX° LIRI BLUES FESTIVAL
A celebration of New Orleans
HLS will play as resident band at XX LIRI BLUES, in June 26,27,28. www.liribluesfestival

Marzo 07
HOTEL LA SALLE + BOB BROZMAN
HLS will play in July, some concerts with the King of Resophonic Guitar, Bob Brozman; more info soon in the gigs area...


Marzo 07
OSCAR BAUER WITH LUPO IN JAIL!!!

Next June, Oscar & Lupo will play in the Don Bosco Penitentiary in Pisa, a concert for the prisoners and with some prisoner-musicians

http://www.informacarcere.it/

DOUBLE CONCERT IN CASTEL SAN PIETRO (BOLOGNA)
Oscar Bauer with Lupo (special guest Mojo Buford) sat 26 May HOTEL LA SALLE + Papa Don McMinn & Nightrain....
www.castelsanpietroinblues.it

FIRST WEEK OF SEPTEMBER: CANCELLED GIGS IN GERMANY
We lookin forward for a fast re-birth of the festival in Schmoelz.

HLS BACK IN SCHMOLZ (GERMANIA)
After the great concert at the 05 festival HLS once more in Schmoelz as Hotel La Salle & The Belzebù Rhythm Trobadours (3 exceptional special guests: Mimmo Wild Mollica (harp), Valerio Perla (percussions) (www.valerioperla.it), Nico Gori (alto, tenor & soprano sax) (www.nicogori.com) da confermare quest'ultimo.

NEW OFFICIAL PIC
New official pic (bookin' area) captured at the Molhenhof Hotel in Wingene (Belgium)- avalaible in colors, B&W, seppia.


PATERSDREEF BLUES HAPPENING




Soon on line the pictures at the Patersdreef Blues Happening (Belgio) by Franky Craeymeersch and Bobtje Blues

.

SAN SEVERINO BLUES FESTIVAL
Oscar Bauer with Lupo at San Severino Marche Blues Festival with Corey Harris, Eric Bibb,.....
www.sanseverinoblues.com

PIGNOLA BLUES FESTIVAL
Confirmed HLS as headliner of fryday July 28 at Pignola Blues Festival (Potenza) (other headliners Scott Henderson,...) www.crossroadspignola.it

24/05/06

HLS cry the death of his belowed friend, the Master of Liutherie Roberto Pistolesi. Roberto is wellknowed all around the word for his solid-body instruments, amps and effects. Oscar Bauer plays a Roberto's strat-model; Pistolesi was (along with Marco Caroti) a real "tutor" of the band



Ciao Roberto, we will miss you




PATERSDREEF BLUES FESTIVAL
Confermati HLS tra gli headliners del Patersdreef Blues Festival (Tielt-Belgium) insieme a Stan Webb, Dr. Feelgood, Louisiana Red, Hot Burritos, Wigbert Van Lierde....

Hotel La Salle sono gli unici italiani invitati a partecipare in 15 anni del festival belga, saranno anche resident-band suonando 7-8 Luglio elettrici e 9 acustici.

HLS tour in Europa – HLS EUROPEAN TOUR
We're bookin'up a new European tour (Schweiz, Deutschland, Osterreich, Polska, Benelux).

The band is available by the next December 2005 Please contact Promomusic or directly Lupo.


Stiamo cercando di organizzare a partire da Dicembre un tour che dovrebbe toccare Svizzera, Germania, Austria, Polonia, e forse alcune date in Benelux, e che necessariamente ci vedrà fuori dai confini nazionali ripetutamente. Cercheremo comunque di mantenere fede alle promesse fatte a molti amici italiani che rivedremmo con piacere. Per gli organizzatori italiani potete scrivere a Lupo.


PRABHAT

New acoustic cd with famous nepalese musicians SUKARMA.
E' uscito a giugno il nuovo cd acustico di Oscar Bauer with Lupo!
"Prabhat" è stato realizzato insieme ai tre fantastici musicisti nepalesi SUKARMA e realizzato allo studio SAM di Lari (PI) e stampato grazie alla collaborazione di Vini Castellani.
Un grazie ad Armadillo Club e Associazione Musicastrada che hanno agevolato l'incontro tra i musicisti.


Il ricavato della vendita di un terzo delle copie andrà a favore del fondo dedicato alla famiglia di Atul Prasad Gautam, fantastico percussionista improvvisamente deceduto pochi mesi dopo la registrazione. Parte delle copie è già stata venduta durante il minitour italiano per la presentazione del cd, dove Atul è stato sostituito dal giovane e bravo Pramod.


Last gig in Germany, at the blues festival in Schmolz!

Last gig in Germany, at the blues festival in Schmolz!
Few days of good music and wonderfull bier, go to see the pictures HERE
Next gig in Germany, already confirmed, will be January 11 in Kranach

Ecco le foto da uno degli ultimi concerti in Germania.


Lezioni di chitarra e di basso a Pontedera (PI)


| | | |
| --- | --- | --- |
| | | Oscar Bauer concede lezioni private di chitarra (acustica, fingerpicking, elettrica , slide) o anche nei locali dell' Accademia della Chitarra di Pontedera (www.accademiachitarra.it) o telefonando allo 0587/212124. Anche Lupo tiene, nella stessa scuola, un corso di basso a partire dal livello principianti in poi. |

Acquisto cd / buy cds



Restyling website/ new website

Anche se il dominio (con fantastico sito artigianale realizzato da Capello) era già attivo da un po' di tempo, ci siamo finalmente messi nelle mani esperte di Enrico Citi, bassista e web-designer, uomo di talento e previdente (in casa sua non manca mai il vino). A lui va la nostra sincera riconoscenza!
Troverete alcune pagine già tradotte in altre lingue….con calma e sangue freddo cercheremo di farlo con tutte.
Our new web-site is recently born, we will try to give you the definitive version soon as possible


Jam at the BORDERLINE CLUB

Stanno per riprendere le jam session del Lunedì al Borderline Club di Pisa (condotte per quattro anni da HLS) e che vedano attualmente impegnati nell'house band ancora Oscar e Capello (per info Capello o Oscar).